What To Do When You Need An Arrest Report From Cleveland County, NC?
Right off the bat, I can tell you that Cleveland County is one of my favorite areas of North Carolina when it comes to launching a warrant search, and with good reason. The Cleveland Sheriff's Dept is forever willing to help people in need of police records. What's impressive about these guys is that I have managed to find a wealth of information by going through their website.
I'd go so far as to say that whether you need a warrants list or arrest records, start your offender search on the agency's website. Only if you cannot find the criminal court records you are looking for on their website should you take the trouble of visiting the law enforcement or a judicial office in person. Please take a look at the URL's that have it all.
How do I get help from the police for my warrant check in Cleveland, NC?
Once you are on the sheriff's department's website, you will see a range of options that can be used to get details on arrest warrants and police reports. If you were to assimilate all the details, I'd say, you would pretty much have the police blotter in your hands. For example, you can: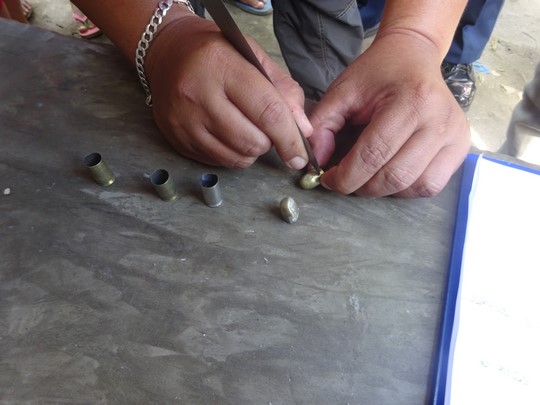 Find a warrant list: The page used to inform people about the most wanted suspects can be used as the starting point for a criminal check, particularly if you feel that your subject may have been involved in felonies. The police offer this information on http://74.218.167.200/p2c/mostwanted.aspx.
Find an arrest log: You can learn about all arrests that have been recently made by using the facility at http://74.218.167.200/p2c/jailinmates.aspx. You can access all the arrest reports from the police blotter, or you can launch an arrest inquiry by using the name of your subject.
Find police log on an incident: The daily bulletin available at http://74.218.167.200/p2c/dailybulletin.aspx is essentially a compilation of arrests made through the day, serving of active warrants, traffic incidents, citations issued, and more.
Find information on criminal occurrences: The Sheriff's Office also maintains a Facebook page, which is used to appraise the community of social events, dangerous criminal incidents, and general safety-related data. All of this is made available at https://www.facebook.com/Cleveland-County-Sheriffs-Office-157039237699058/.
How can I get a warrants list from the judicial offices of Cleveland County?
You cannot find a complete list of outstanding warrants issued by Cleveland's courts from the judiciary. Although the Clerk of Court does maintain this information, you will not be able to access it unless you have the name of a subject/subject. However, you can launch a criminal check through this agency. To do so, you can:
Go to their office at 100 Justice Place, Shelby, NC 28150, and find yourself a public service terminal. These computers are connected to the database of court cases. So, with just the name of the subject, you will be able to find all criminal and civil processes initiated against and by this individual. They charge a small fee for printouts, but otherwise, the computers are yours to use free of charge.
You can also request that a deputy from the office handle the warrant search for you. This is the official way to launch a background search because you will get a certified report in response. But, you will have to pay the Clerk's office $25 for the service.
Who can help you with an over-the-phone warrant search and arrests inquiry for Cleveland County? (2021- Update)
Call the Detention Center at 704-484-4889 for information on recent arrests.
Call the main phone number of the Cleveland Detention Center at 704-669-3001 for general prison information and inmate searches.
Call the Sheriff's Office at 704-484-4888 for general questions.
Call the Warrants Unit at 704-484-4822 for information about arrest warrants.
Call the District Attorney at 704-476-7810 for victim's assistance
Call the Records Unit at 704-484-4887 for an arrest report
Call the Clerk of Court at 704-476-7800 for judicial records
Crime statistics of Cleveland County
The crime rate of Cleveland County stood at 1992 incidents/100,000 residents in 2018. This was around 5% lower than the crime average of 2017, which was 2089 incidents/100,000 population. Unfortunately, the overall improvement in the crime scene of the area had little impact on the violent crime rate of the county, which soared by almost 30% to reach a high of 200 cases/100,000. The rate of property crime showed a reduction of around 9%, going from 1930 incidents to 1790 cases.
Search North Carolina arrest records by county: