How To Get A Warrant Search Done And Access Arrest Records In Wilson County, NC?
When I am asked how regular folks can seek arrest records and details on arrest warrants, I always like to offer a list of both online and offline resources. While I cannot always provide online options for a criminal check for all areas, the Sheriff's Dept of Wilson County does offer a significant amount of information from their police blotter on their website.
So, I will tell you about data that you can get online and the details you will have to seek in person. Typically, suppose it's a warrants list that you are looking for or any information about outstanding warrants in general. In that case, you will either have to go to the law enforcement officers to get it or conduct the warrant inquiry through a private investigation service/agency.
On the other hand, I have always found it easy to get my hands on an arrest report. In fact, with a few clicks and you can access the arrest log for Wilson in a matter of seconds. That is really how simple it is. So, let us start by discussing how you should go about handling a criminal check.
How do I access details on arrest warrants and Wilson's arrest log from the Sheriff's Office?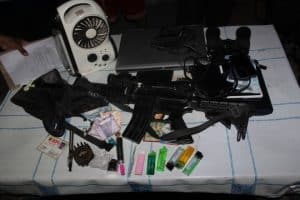 Check for police reports on specific incidents: If you have the case number of a particular criminal incident or any other information about it, as the date of occurrence or the location, you can use the incident search tool to get information on it. But, I must warn you that you will not get information on the suspect/s from this source. You will, however, be able to access the arrest report. The facility is offered on https://www.countyoffice.org/nc-wilson-county-arrest-records/.
Get a warrants list going by looking at the wanted suspects' page: The compilation on https://wilsonnc.policetocitizen.com/WantedPersons/Catalog not only has information on the area's most wanted but just about everybody who has active warrants in his/her name. So, if an arrest order was ever released in the name of your subject in Wilson, you will find out about it here.
Access the police log for the day for an arrest inquiry: Now, this is essentially a large part of the police blotter made available online. If you leave out details on arrest warrants, you will find everything else in the daily bulletin at https://www.countyoffice.org/nc-wilson-county-arrest-records/. You can filter the results by date or by event type. So, you can access police reports and even the arrest log for the day.
Visit the Sheriff's Dept for your warrant inquiry: And finally, we talk about visiting the law enforcement agency for a warrant inquiry. This can be done by going to 100 E. Green St. Wilson, NC 27894-1666. You can also write to them at P.O. Box 1666.
How do I get access to the criminal court records held by the judiciary?
Although the Clerk of Court's Office keeps the local courts' issue arrest warrants, information on these arrest orders. So, regardless of which court issues the active warrants when seeking details on these processes, you will have to approach the Clerk's Office. You can:
Visit them at 115 E Nash St, Wilson, NC 27894
Write to them at PO Box 1608, Wilson, NC 27894
If you need information on Wilson County recent arrests and warrants, whom should you call? (In 2021)
For up-to-date arrests information, contact the Wilson County Jail- 252-237-2522.
For a Wilson County warrants inquiry, call the Wilson County Police Department – 252-237-8300.
For victims' support, call the Victim's Advocate at 252-399-2352.
For details pertaining to warrants, contact the Magistrate's Court at 252-206-3019.
For criminal court records, call the Clerk of Court- 252-206-3000.
Crime statistics of Wilson County
Although there was only a 5% drop in the crime rate of Wilson County between 2017and 2018, it can be interpreted as a step in the right direction. Approximately 3170 complaints/100,000 were filed with the Sheriff's Office. Of these, nearly 2800 were in connection with property crimes while the remaining 390 cases were attributed to violent offenses.
Search North Carolina arrest records by county: