After spending hours upon hours digging for online arrest records offered by law enforcement agencies across North Carolina, I felt like I had hit the jackpot when I reached the website of Rowan County Sheriff's Dept. From the arrest log to their warrants list and even details from the police blotter, these guys have made it all available for folks like you and me.
So, if you need an arrest report or are interested in a warrant search, you will seldom have to go beyond this site unless you seek reliable information in response to your criminal check. I will talk about that in just a bit. But first, let me tell you how to find most of the criminal court records you need without setting a foot outside your home.
How do I get an arrest report and a warrant list for Rowan County online?
A big shout out to the Rowan County Sheriff's Dept for simplifying the entire warrant search process for professionals and amateurs alike. With that out of the way, let me get straight to how and where you can get the information that you seek: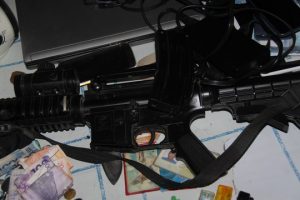 After all of that, you won't feel the need to get in touch with the Sheriff's Dept in person, but if you want to visit the agency, do so at 232 N Main Street, Salisbury, NC 28144. You can also call Landis's office by driving to 102 N Central Avenue, Landis, NC 28088. The Jail can be visited by going to 115 W Liberty Street, Salisbury, NC 28144.
When should I go to the judiciary for a criminal check?
It would help if you approached the Clerk of Court's office when you need a certified report for your offender search. You can reach the agency by visiting them or by writing to them. The Clerk of Court works out of 210 N Main St, Salisbury, NC 28144-4374
Who can help you with an over-the-phone warrant search and arrests inquiry in Rowan County? (2021- Update)
To learn more about arrests and prisoners, contact the Rowan County Jail at 704-216-8737.
For general information, reach out to the Sheriff's Office at 704-216-8700.
For arrest records and incident reports, get in touch with the Sheriff's Office Assistant at 704-216-8667
For investigation-related inquiries, contact the Crime Investigation Division at 704-216-8741 (for victims only).
To get information on outstanding arrest warrants, contact the Magistrate's Court at 704-797-3130.
To speak with the victim's advocate, contact the District Attorney's Office at 704-797-3010.
For information on submitting a request for a criminal background check and court case records, contact the Clerk of Court's Office at 704-797-3001.
Crime statistics of Rowan County
The Rowan County Sheriff's Department received 1148 criminal complaints in 2019. There were 999 crimes against property and 149 offenses against people in this annual total.
Nearly 636 larceny thefts, 265 burglaries, and 98 car thefts were recorded as crimes against property. There were 113 aggravated assaults, 16 rapes, and 16 robberies among the violent offenses.
Search North Carolina arrest records by county: