Let me start by telling you about the website of the Sheriff's Dept and what they offer online in terms of criminal court records. Except for their physical address, you will find nothing on the Sheriff's site.
I know that it isn't the job of the police to handle warrant search requests, but it is not unusual to find law enforcement agencies across the country offering arrest records and even warrants list on their sites. This is done so that community members can get arrest reports and information on arrest warrants, which helps to protect regular folks from criminal elements.
Now, I could go on and on about how a warrant list and an arrest log or even the police blotter available online can help everybody but that isn't going to help your cause much. So, I will get straight to the point and discuss how to look for criminal court records in Onslow, NC.
How can I get an arrest report through the Sheriff's Dept of Onslow?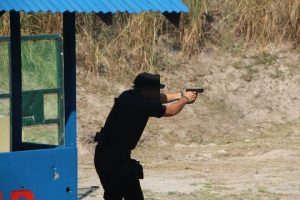 Those of you, who looking for an arrest inquiry in the name of a particular individual or are interested in learning about any active warrants that this person may have against him, will have to reach out to the sheriff's office personally. The agency works out of 717 Court St, Jacksonville, NC 28540, USA.
Get in touch with their administrative department by calling on 910-455-3113. They will be able to guide you on the warrant inquiry process. Typically, you will be asked to divulge the reason for the search and provide the name and DOB of the subject. You will also need to show them your ID card (government issued) before they initiate the warrant search for you. That said, you should also know that you will not be given information on criminal matters that are still being investigated.
There is also another way to get details on arrest warrants in general, and I am certainly not suggesting that you will get your hands on the complete warrant list here. The FB page of the Sheriff's Dept at https://www.facebook.com/onslowsheriff/ has information on a few cold cases including details on suspects. Obviously, these people on the run will have active warrants out against them. So, there is your chance to get a rudimentary list of arrests and warrants going.
Is there a way to get information on arrest warrants or conduct a criminal check through the judiciary in Onslow?
You bet! One of the many responsibilities shouldered by the Clerk of Court's office is the distribution of public records among community members. So, this is actually THE agency for a background check, whether you are interested in an arrest inquiry in your own name or in that of another person. You can contact the agency in person or through mail at 625 Court St, Jacksonville, NC 28540. They let you find arrest records and details on active warrants in two ways:
You can look for information on criminal court cases on your own by using the public service computers. These give you unhindered access to the court docket database. So, if a criminal matter or even a civil process involving your subject has passed through the judicial system of the area, you are bound to find information about it through this method. The office does not charge you for this facility. Talk about the best things in life being free!
If you want a certified background check done, I recommend that you pay the $25 warrant search fee and file a formal request for the warrant inquiry. This can be done while you are at the clerk's office.
Search North Carolina arrest records by county: