If you intend to check the website of the Sheriff's Dept for the arrest report you need, I will save you the trouble and tell you right now that it has nothing to offer. Let alone the police blotter, which is like the motherload of all criminal court records; you won't even get a simple warrants list from the police website.
When you click on the link supposed to help you with an offender search and access the arrest log, you are taken to the VINE page for NC. Put, whether you are looking for the area's warrant list or are interested in a proper criminal check, you are not going to find any of it online.
So, where do I go for an arrest report or details on arrest warrants issued in Stokes?
In my opinion, for all you folks who need detailed information, your only choice is to visit the concerned law enforcement or judicial office in person. What I am going to do here is give you contact information plus details on web resources that will help you with your arrest inquiry.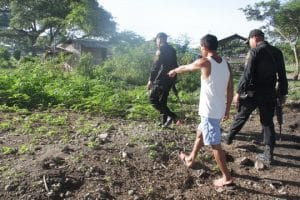 Approaching the sheriff's dept for information on active warrants: The sheriff's office works out of Hwy 89 – 1012 Main St, Danbury, NC 27016. You will need to speak with the records clerk while you are there.
Connecting with the County Jail for an offender search: To know about a person currently under detention, go to 1013 N. Main St Danbury, NC 27016. You can also write to them at P.O. Box 248 Danbury, NC 27016, 336-593-8117.
Using the most wanted list for a criminal search: Although this service is not offered directly by the police, you can access the information from the Crime Stoppers website for the area at http://www.co.stokes.nc.us/sheriff/index_files/Page376.htm.
Accessing recent arrest reports online: The Vinelink on the sheriff's website will redirect you to https://www.vinelink.com/#/home/site/34003, which can be used to track the movement of a prisoner through the correctional system of the state.
How do I find criminal court records in Stokes?
Another way of launching a criminal check in the area is to get in touch with the Clerk of Court's Office. This agency is in charge of handling all inquiries about criminal court cases. So, if you are interested in a background check, this office will help. They allow people to access their court docket database for free, and they also provide warrant search facilities for a fee.
The free arrest inquiry: Go to the judicial agency's office, which works out of the same building as the sheriff's dept. You will see computers in the lobby, which are meant for public use. You can find a free terminal and use the subject's name for an arrest and warrant lookup.
The paid search: While you are at the office, go to the counter and pay $25 requesting a criminal investigation with a certified report. You can also order this service by writing to the agency at PO Box 250, Danbury, NC 27016. To avail of the facility through the mail, you will need to send in the fees by money order or certified check and the form's information http://www.nccourts.org/Forms/Documents/112.pdf.
Search North Carolina arrest records by county: